Dry ice for vaccines and medication
Vaccines like to be kept cool.
The cold chain is a big challenge in distributing vaccines worldwide.
But the logistics of transporting and storing vaccines – getting them from the factory to the patient – are critical. And as many vaccines require two doses when given to a patient for the first time, the whole chain needs to be repeated within weeks. The more links in the supply chain, the higher the risk that the vaccine's temperature might be compromised.
The temperature needs to be just right.
Some vaccines, need to be kept at around -70°C (-94° Fahrenheit) during transport. That is 50°C colder than most other vaccines currently used.
Especially some of the new, eagerly anticipated vaccines for Covid-19 fall into this category.
That's where dry ice comes in: High quality dry ice like ours has just the right temperature, and if used with high quality containers, can keep it for days.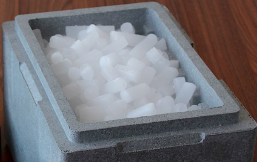 BSI Ice offers to hospitals, practices, health care centers and vaccine distribution points a regular delivery of top quality dry ice.
Using our premium containers to easily swap empty containers for full ones will ensure steady supply to keep the cold chain intact.
Our premier quality dry ice is made in Luxembourg, from where it can be quickly shipped throughout the Greater Region, 24/7.
Ensure your supply of dry ice for medical needs.
Secure your dry ice supply with regular shipments for long term needs
Contact us to get a tailored offer, adapted to your needs regarding amount of dry ice required, container sizes, and preferred delivery schedules.